Our aim is to design and create high quality public realm spaces. We endeavour to provide a solution that is attractive, engages community life and encourages more active means of travel.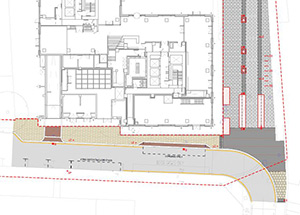 Street Space Designs has a wealth of experience working with developers and contractors in the planning and design of the Section 278 (and Section 38) agreements. Our understanding of the highway authority's technical approval process and requirements will help to mitigate the financial and programme risks associated with the Section 278 (and Section 38) agreement process.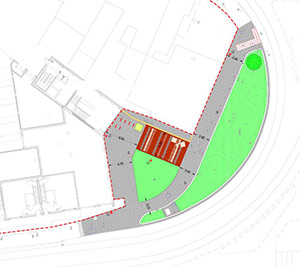 Determining the threshold levels of a proposed development is a very important milestone prior to progressing with the design. Many highway authorities will require a threshold review to be submitted for approval prior to commencement of the development. We can undertake the threshold review on behalf of our clients, and we will work closely with the entire design team to ensure the building is set at a level that accommodates the development's access requirements and the public highway.
We are a specialist highway and streetscape design consultancy, with a wealth of experience taking schemes from concept design, through the design stages to detailed design approval and overseeing the construction phase. We work closely with the client and highway authority during every scheme to ensure the client's vision is met, whilst also ensuring the design adheres to the highway authority's standards and specification.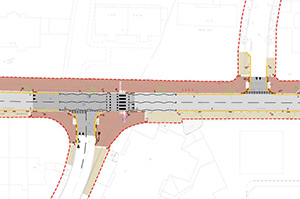 Vertical design is a fundamental part the initial and detailed design process to ensure the end product is buildable comfortable for all users. The vertical design is often challenging, and complex given the typical site constraints of working within the urban highway environment. Street Space Designs can undertake the vertical design using the latest 3d design software. We are able to prepare existing contour plans, proposed contour plans, isopachyte plans, setting out drawings, long sections and cross sections to industry design and construction standards.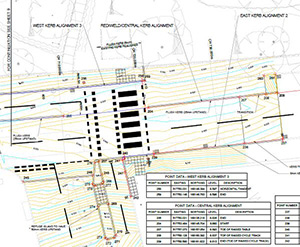 Our engineers are experienced in preparing and providing designs, calculations, drawings and condition reviews in accordance to Design Manual for Roads and Bridges (DMRB) design standards.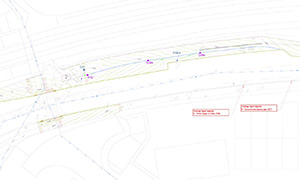 Streetscapes should feel safe for all modes of transport. At Street Space Designs we are passionate about designing high quality walking and cycling links that are coherent, direct, safe, comfortable and attractive.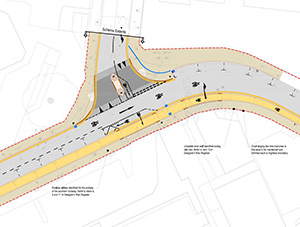 The proposed highway layout at a junction is fundamental to improve efficiency and capacity. Street Space Designs provide the necessary design, where we aim to increase convenience, comfort and safety within the junction and road network. Working with our trusted partners and supply chain, we can also analyse junctions to ensure traffic modelling requirements are met.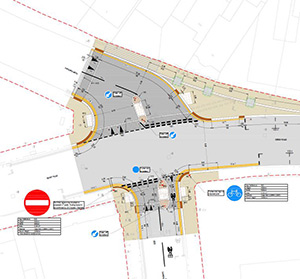 We prepare the design, fabrication and foundation details for standard signs, that comply with Traffic Signs Regulations and General Directions 2016. We also prepare the designs for bespoke signs that are required within private demises.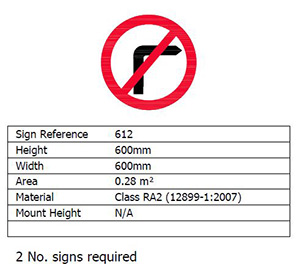 Utilising latest design software, we can provide horizontal and vertical vehicle swept path analysis to provide our clients with assurance that their site and proposed accesses are vehicle friendly. Street Space Designs has provided swept path analysis for highway designs, general access and egress arrangements, refuse collections, oversized vehicles movements, car park arrangements and as part of constriction logistics planning.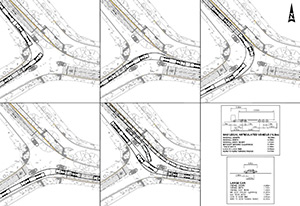 Street Space Designs is experienced in providing site monitoring services as the project progresses from design approval to the construction phase. We work with the client and main contractor to ensure the construction works are implemented in accordance to the quality requirements of the highway authority, and to the time and cost requirements of the contract.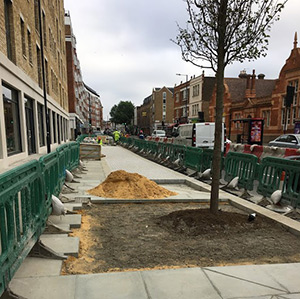 Utilising Transport for London's Healthy Street Toolkit, Street Space Designs can ensure the schemes we design improve air quality, reduce congestion and help make London's diverse communities greener, healthier and more attractive places to live, work, play and do business.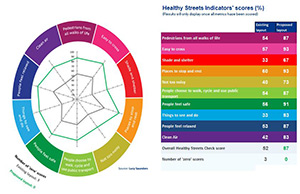 We have experience in working with highway authorities to prepare measures that reduce bus journey times and improve reliability of bus services - design options can include segregation, traffic signal control and bus stop improvements. Once implemented, effective design measures can create a modal shift, enticing regular car users to take the bus.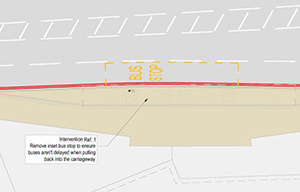 Street Space Designs work together with the main contractor and highway authority to design the construction logistics and vehicle activity in and out of a proposed development site. Our design intent is to reduce the impact of the construction to the general public and local road network.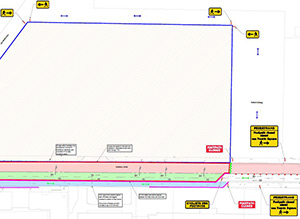 We provide temporary traffic management designs and drawings for urban roads in accordance to Traffic Signs Manual Chapter 8. We understand that the response for temporary traffic management design must be efficient and accurate to meet the fast pace and changing requirements around on-site traffic management.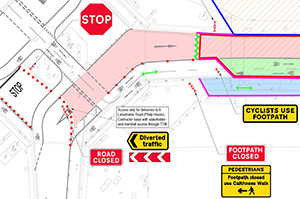 We prepare designs of parking and servicing areas that aim to maximise the available space, whilst providing a smooth passage for vehicle movements and segregated walkways for pedestrian safety.
Street Space Designs can obtain Statutory Undertakers records determining the affected and non-affected undertakers. We manage the process to obtain budget estimates and detailed estimates for diversionary or protection works required as part of the scheme, in accordance with the New Roads and Street Works Act.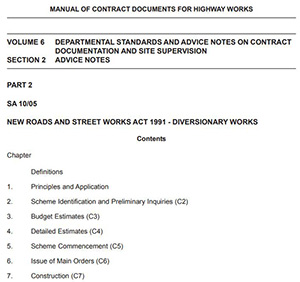 We can review the scheme aspirations and prepare a bill of quantities using market rates to provide our clients with assurance and transparency that their scope can be achieved to their target costs.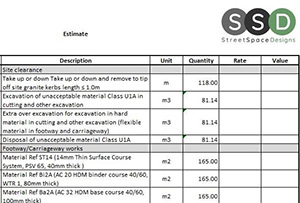 Street Space Designs can prepare and recommend construction route plans with the contractor. We define safe routes to site that, where possible, avoid high risk areas such as schools, cycle links, narrow roads, and difficult junctions.
Street Space Designs provide project management, design management, management of sub-consultants and programme management for the design phase of highway engineering schemes. Whilst undertaking this role, we work closely with our client to understand their needs and requirements.
Street Space Designs offer a technical audit service – we provide an independent check on designs prepared by others to ensure the design meets local and national design standards. With our design expertise and experienced engineers, we are well placed to analyse, and audit designs presented to us. We will aim to identify and suggest design improvements, potential buildability issues, and, where possible, value engineer the scheme to reduce overall project costs. The independent review provides our clients with a trusted second opinion and peace of mind.